ESG management and reporting is an important value proposition for organizations of any size, and companies are increasingly required to track and report their ESG performance to access financing and maintain their competitiveness.
Managing ESG data manually is a challenge and can become costly and time-consuming, under the best of conditions.
Sustanya Partners Network of ESG specialists directly supports Sustanya clients to validate and verify their ESG data, and many find Sustanya to be a valuable addition to their arsenal of products and services.
Sustanya is building a network of trusted, independent ESG specialists and consultants to validate and verify ESG data provided by our clients. The Sustanya Partners Network is a critical component of our value proposition, ensuring the integrity and credibility of reports generated using the Sustanya tool.
Joining the Sustanya Partners Network is easy and represents an opportunity to grow revenue together. As a verifier, you will validate and verify the data reported by Sustanya clients using our proprietary traceable and confidential system. Join our Sustanya Partner Network today and help the growing number of organizations on the path towards Sustainability!
Please don't hesitate to contact us to learn more about how Sustanya can become a key part of your consulting practice and enable the digital transformation of ESG performance management and report.
Why become a Sustanya Partner
Generate new income stream by verifying ESG data of Sustanya customers
Use Sustanya as your own ESG data and management digitalization tool customers
Join a network of ESG global partners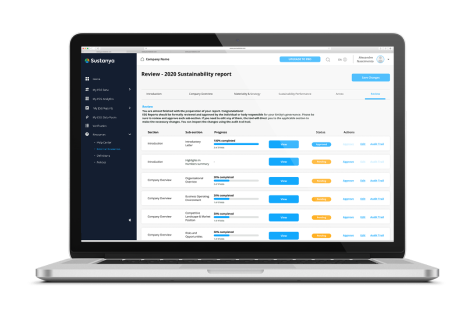 Manage all procedures and communications with maximum traceability
Access ready-to-publish templates for verification reports
Find and access customer´s ESG data easily organised and ready to be reviewed
Register as a Partner
Share your ESG experience
Access to Sustanya Onboarding training
Verify ESG Data
Receive requests for ESG data verification from Sustanya´s clients
Access ESG data a
nd supporting evidence organized in secure data rooms
Register and share your comments and assessment with clients in Sustanya to help follow up
Prepare Verification Report
Prepare your
verification
report using our guides and templates
Customize your verification report with your logo
Easily upload your verification reports